Six Years of Mario Maker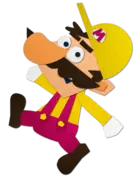 It's time to do this thing again!
Since the release of Mario Maker, Kiavik has hosted an annual community project in order to push Mario Maker to the limit. This year is no different, every weekend the next couple of months we'll publish a batch of varied and rigorously playtested levels.
Every level has a birthday cake for you to discover. Can you find them all?
To the levels
Content creator?
If you are a streamer, a YouTuber, a video game writer or in any other way a content creator, we have readied a Drive folder for you.
Here you will find visual elements from the project: Logos, illustrations and other goodies. These are free to use for thumbnails, video overlays and other purposes. New elements will be released every week, so if you bookmark the folder you'll have access to these as soon as they are made available.
Open folder
Stay up to date!
If you want to be notified when a new release drops, subscribe to our YouTube channel, where we will post a video showcasing all new levels every week!
To the videos